Covid-19: Mystery UK person with Brazil variant found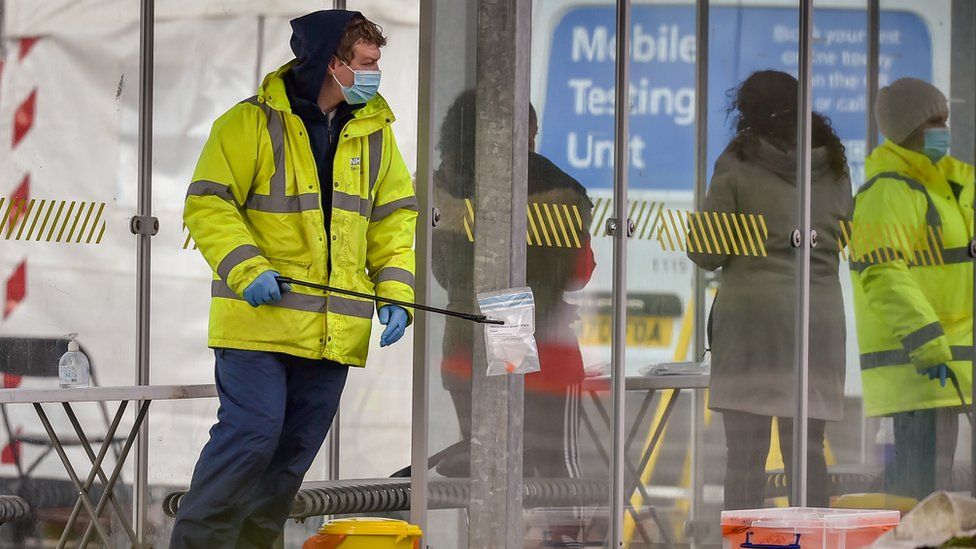 A mystery person in the UK infected with the Covid variant of concern first found in Brazil has now been traced.
Last week, it was announced that six cases of the P.1 variant had been found in the UK – but one of the cases was still unknown.
The person, who lives in Croydon, has been traced, as have their contacts.
Health Secretary Matt Hancock said the person "stayed at home" and there was no sign of any onward transmission – but local testing is being rolled out.
There are also concerns vaccines may not be as effective against it – but NHS England experts say vaccines can be "rapidly adapted".
Earlier this week, Mr Hancock said the UK's current vaccines had not yet been tested against this variant. But work is already under way to tweak the vaccines to make them a better match for some of the new strains.
The variant has been designated "of concern" because it shares some important mutations with the variant first identified in South Africa.
One of these mutations – called E484K – may help the virus evade some of the immunity people may have already built against Covid.
News that the Brazil variant had been found in the UK was released last Sunday. Three cases were found in England, and separately three in Scotland.
The three cases in Scotland were all oil workers who were returning to their families from Brazil, via Paris and London. Health officials have been trying to trace all the passengers who were on their flight from Heathrow to Aberdeen.
In England, two of the cases are from the same household in South Gloucestershire who tested positive after someone returned from Brazil on 10 February.
The third case in England – the person who has now been found in Croydon – was not linked.
Earlier this week, preliminary data from Manaus – the Brazilian city hit hard by this P.1 variant – suggested the variant could be up to twice as transmissible as earlier Covid.
But experts said this should not be used to predict what might happen in the UK.
One of the lead researchers said it was unlikely P.1 would quickly take off in Britain when only six cases had been identified and these were being closely monitored.




The testing is to be extended for a further week.