Covid: 'Optimistic' PM plots 'cautious' lockdown easing
Boris Johnson has said he is "optimistic" he will be able to set out plans later this month for a "cautious" easing of England's lockdown.
The prime minister said "huge progress" had been made with the rollout of vaccines, with ministers hopeful that schools can reopen from 8 March.
After this, the government would look to open non-essential shops and then later the hospitality sector, he said.
It comes as scientists warned against easing lockdown measures too quickly.
Mr Johnson will set out his "road map" out of lockdown on 22 February.
The government is aiming to offer a first jab to everyone in the top four priority groups – about 15 million people – by Monday.
The figures also show a further 612 people have died in the UK within 28 days of a positive coronavirus test, taking the total number of deaths by that measure to 116,908.
Speaking at a visit to the Fujifilm Diosynth Biotechnologies plant in Billingham, Teesside, Mr Johnson said: "I'm optimistic, I won't hide it from you. I'm optimistic but we have to be cautious."
Setting out the government's priorities, he said: "Our children's education is our number one priority, but then working forward, getting non-essential retail open as well and then, in due course, as and when we can prudently and cautiously, of course we want to be opening hospitality as well.
"I will be trying to set out as much as I possibly can in as much detail as I can, always understanding that we have to be wary of the pattern of disease.
"We don't want to be forced into any kind of retreat or reverse ferret," the PM added.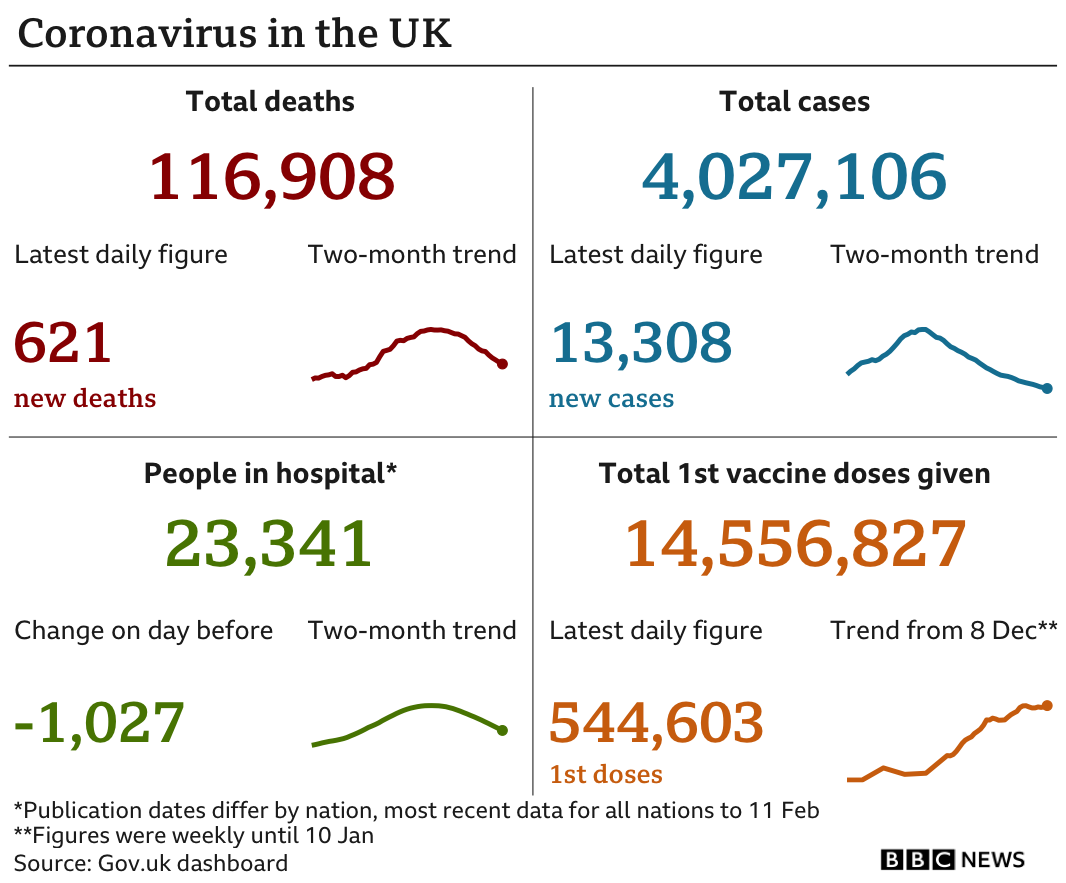 "A nasty disease like this will roll through. A new disease like this will take time for humanity to adapt to, but we are," Mr Johnson said.
"I do think that in due time it will become something that we simply live with. Some people will be more vulnerable than others – that's inevitable."
Mr Hancock told the Daily Telegraph that he hoped new drugs by the end of 2021 could make Covid a "treatable disease", and one that we live with "like we do the flu".
This suggested that he was ruling out a "zero Covid" strategy, aimed at eliminating the virus entirely from the UK.
However, scientists said coronavirus mutations were getting "more dangerous" and "more infectious" and warned against treating it like the flu.




Dr Sarah Pitt, a virologist at the University of Brighton, told the BBC: "It's not a type of flu. It's not the same sort of virus. It doesn't cause the same sort of disease, it's very, very nasty."
She added: "The mutations, the variations, that we're seeing are becoming more infectious, not less infectious and a bit more dangerous, not less dangerous."
Prof Steven Riley, a member of the SPI-M modelling group, told BBC Radio 4 Today: "If for some reason we were to choose to just pretend it (coronavirus) wasn't here anymore, then there is the potential to go back to a wave that is a similar size to the one that we are in now."
Adam Finn, a member of the Joint Committee on Vaccination and Immunisation, said vaccines were "doing what we wanted them to do", particularly among the very elderly and vulnerable, who were among the first to receive the jab.
Although acknowledging that it was "desperately important" for schools to return and society to reopen, he cautioned against getting into a cycle "where we are constantly opening up and then closing down again and everything is very unstable".
"It's worse to open up, have another wave of pandemic, anther bunch of hospitalisations and have to close down again than to be able to progressively normalise things," he told BBC Radio 5 Live.
NHS Confederation chairman Lord Victor Adebowale said 8 March for schools could still be too soon, adding that the NHS workforce was "on its knees".
"I understand the pressure to open schools. We need to do so very safely. I think mid or late March is when we should be reassessing.
"We have had a number of false dawns when we have set dates, taken the action, then find ourselves having to row back very quickly," Lord Adebowale told Today.
But the prime minister is facing calls from some MPs in his party to ease restrictions.
Meanwhile, UK Hospitality said for every week the hospitality sector remains shut down more companies are being placed in jeopardy and millions of jobs across hospitality and the supply chain are being put at risk.
The trade association's chief executive, Kate Nicholls, said: "That is why we urge the prime minister to work with us on delivering a safe, swift and sustainable exit from lockdown for hospitality."